Heart Care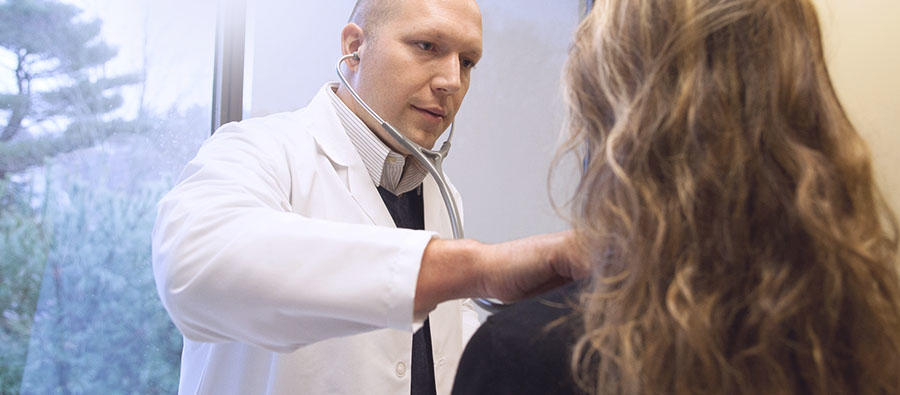 Award-winning heart care, close to home
Trust your heart to the first accredited Chest Pain Center in Texarkana. With a Non-Invasive Cardiology Lab, two Digital Cardiac Catheterization Labs, Cardiac Telemetry Unit, Intensive Care Unit, we offer a comprehensive program to meet your cardiac needs.
Accredited Chest Pain Center
As an Accredited Chest Pain Center through the ACC (American College of Cardiology), the Wadley Team is committed to providing efficient, timely emergency heart care to all patients. This has been achieved by enhancing coordination among all providers involved in the patient's care: emergency responders, local EMS, our hospital ED team, the heart cath team, laboratory staff, the critical care unit and cardiac rehab. Our team has worked hard to reduce the time-to- treatment during the critical early stages of a heart attack and are proud to be well below the national average benchmark of 90 minutes.
Our 24-hour Chest Pain Center team is trained in identifying patients who may be having a heart attack – even when they don't display the usual symptoms. The key to successfully treating a heart attack is early detection and treatment.
Medical (Non-invasive) Cardiology
Identifying heart problems without using any needles, fluids, or other instruments inserted into the body is medical cardiology. Our non-invasive cardiologists utilize techniques such as nuclear cardiology, echocardiography, stress tests, heart monitors and CT scans. Once your specialist has identified risk factors or existing conditions, they may recommend medication and lifestyle changes to improve your heart's health.
Loop Monitoring
An implantable loop recorder is a type of heart-monitoring device that records your heart rhythm continuously. It records the electrical signals of your heart and allows remote monitoring by way of a small device inserted just beneath the skin of the chest. This can help answer questions about your heart that other heart-monitoring devices don't provide. It can capture information that a standard electrocardiogram (ECG or EKG) or Holter monitor misses because some heart rhythm abnormalities occur infrequently.
Impella
Impella is a FDA-approved, non-surgical heart pump used to temporarily assist the pumping function of the heart during stent placement and ensure blood flow is maintained to critical organs. This procedure, known as a Protected PCI, reduces the risk of complications and helps to decrease repeat heart procedures.  This heart pump is also used to support the heart function of critically ill patients in cardiogenic shock.
Intravascular Ultrasound (IVUS)
Intravascular ultrasound (IVUS) is medical imaging that uses a specially designed catheter with a tiny ultrasound probe to generate sound waves and produce images of blood vessels. IVUS is used in the coronary arteries to determine the amount of plaque build-up and can show the entire artery wall to provide important information about the amount and type of plaque buildup. This can help determine if you are at risk for heart attack.
Cardiopulmonary
The Cardiopulmonary Department provides both diagnostic services, and therapeutic services, treating a patient population from newborn to geriatrics. Our services are available as an inpatient or outpatient and in the emergency department as well.
Conditions
Coronary artery disease
Aortic aneurysms
Stroke
Diseases of the vascular systems (blood vessels)
Chest wall abnormalities
Diseases of the chest (esophagus, lungs, tuberculosis, chest wall deformities, cancer, myasthenia gravis, chest wall and mediastinum)
Lung and esophagus tumors
Cardiac and peripheral vascular disorders
Heart and vascular blockages
Respiratory conditions
Heart attack
Chronic heart failure
Treatments
Lung resection
Repair of chest wall abnormalities
Coronary angioplasty and stenting
Coronary angioscopy
Percutaneous clot removal for heart and vascular blockages
Peripheral arterial angioplasty and stenting
Renal artery stenting
Bronchoscopy
Pulmonary function studies
Echocardiograms
EKGs, EEGs
Resources
Man Up & Become Heart Smart

"Many men think their symptoms are a sign of something else, like heartburn, so they do nothing," says Peter Ofman, MD, a Steward cardiologist. "Even a man who already had a prior heart attack may not recognize his symptoms, as each attack can be dramatically different."

Heart Attack Information: What you know could save your life!

There are often warning signs leading up to a heart attack that people often ignore. Approximately 50% of people have symptoms within the two weeks preceding a heart attack. Through early recognition of symptoms and controlling risk factors, heart attacks can be prevented. Recognize ALL the signs!

Hands Only CPR

Hands only CPR in the first few minutes of an out-of-hospital sudden cardiac arrest for an adult victim can save a life.