Patient & Visitor Information
Learn more about:
Required Forms
Learn more about:
Patient Handbook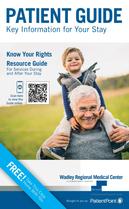 Case Management
Our Case Management team carefully and systematically assesses each patient's plan of care and acts as a liaison to ensure efficient and timely delivery of services, and additionally communicates with insurance providers. Planning a patient's discharge may involve arranging for home health care, rental of medical equipment for home use. skilled nursing facility placement including rehabilitation, and alternative living arrangements, such as nursing home care.
Additional services include crisis intervention, adoption services and identification of financial and other resources.
Hours
Monday through Friday – 8am – 5pm
On call and accessible 24 hrs / 7 Days a week
Contact Information
Kim Lewis, RN, Director
(903) 798-8840
[email protected]
Notary Services
Notary Services at Wadley Regional are specifically for the convenience of patients and their families at Wadley Regional Medical Center. Please note we only notarizes hospital related documents such as a medical power of attorney.    We do not notarize powers of attorney to handle business affairs, car titles, property transfer or wills.
Contact Administration at 903-798-8001 for any Notary requests or questions regarding this service.
Social Services
Social Workers are part of the Case Management Department. They provide services for the psychosocial needs of patients and their families. The Social Work staff is composed of specially trained clinicians that have a Master's degree in Social Work and are experienced in medical Social Work.
Social Workers Provide:
Counseling
Crisis intervention
Evaluation and referral of patients who are victims of abuse or neglect
Assistance with long term care planning
Referrals for concrete needs within the community
Referrals to appropriate agencies/facilities for substance abuse
Discharge planning
To make a referral please call (903) 798-8840.